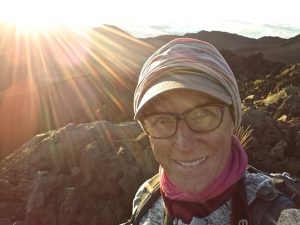 Sherry Ott is calling from the other side, where adventure lies, to show you that it's not that scary, it's not too uncomfortable, and it's not a bad career move to take a career break for long term travel.
But before she became this explorer of an amazing world, Sherry Ott was living, working, and earning six-figures in New York for three years. But when she was 30, she took a vacation and met other travelers who asked her a question that would change her life.
In this episode, you'll hear how Sherry viewed an extended career break as a challenge, took it on, planned, fell in love with exploration, got hooked, and rather than returning, created her own life of travel. Her story will make career breaks accessible for anyone who is longing for long term travel, and how she's able to financially support her travel lifestyle through blogging and freelancing.
Today, she's a digital nomad and corporate American runaway, who escaped her cubicle in New York City and has been traveling nomadically and solo for over 7 years now, helping others recognize that they can do the same, and writing about it on her blog Otts World.
If this is something you want, to finally take that trip and have these experiences, then listen to how and why Sherry has embraced a nomadic lifestyle and how she believes anyone can give themselves the permission to travel long-term.
This is part 2 in my conversation with Sherry Ott. Listen to part 1.
Subscribe on iTunes, Stitcher Radio, Soundcloud or TuneIn
Words from an Explorer
"I don't want to wait for my retirement to climb Kilimanjaro because I don't know if I'll be able to."
What You'll Learn
Why Sherry has embraced her addiction to new experiences, and what it means to feel this desire to challenge yourself
How baby steps can help get you to where Sherry is today
What you learn, about the world, others, and yourself, through experiencing the challenges of travel
How Sherry affords her travel by lowering her income standards and cost of living
Why we have definitions of what we SHOULD be doing that trump what we DESIRE to do
Sherry says fear stops us from taking career breaks and so she created Meet Plan Go to help people meet others who actually have taken these steps to break down that fear and inspire others to do the same.
Sherry's Best Travel Advice:
The First Step: For long term travel, do not get overwhelmed with the planning. Don't worry about every night. Plan the first 1/3 of your trip. You'll discover yourself, your interests, and you'll appreciate the flexibility later on. Planning is easier once you're out there, surrounded by options and spending time with others doing the same thing. You never know if you might meet someone, find work, or change your mind!
Money Saving Tip or Travel Hack: Get out of hotels and stay with locals. Guest houses, short-term apartments, places that have a kitchen and force you to go to the local markets, and allow you to cook rather than spend more and eat out. You save money while having a more authentic experience.
Packing Advice: Buy things where you go, and roll your clothes!
Favorite Travel Gear: Mobile Wifi device
Favorite Book: Tales from Nowhere (Lonely Planet Travel Literature)
Weirdest Food: Balut (fertilized duck egg)
Mentioned on this Show:
Music Credit: Move Slow by Felxprod ft. Jess Abran (Myriad Remix), Intrepid Journey, by Aaron Static
Like the show? I'd love a rating and review!
Take action and please share the show! All you have to do is click one of the social sharing buttons at the top of this post.
Also please leave a rating or review on iTunes! It just takes a second and you can help the show increase its rankings on iTunes just by this simple and quick gesture. If you do, click here to let me know so I can personally thank you!
Thank you so much for your support!
See you next time!
Want the secrets of the most successful travel influencers?
Get the best interviews with the most successful travel influencers in one valuable PDF guide. Learn what makes them successful and more.
Plus, we'll send you a few big surprises 🙂