As an ambassador for Holocene and a delegate for the Adventure Travel World Summit, travel photographer and influencer Kirsten Alana went to Alaska to experience the Alaskan railway, go dogsledding, and flightsee over Denali National Park. Below is her account of what she experienced. Learn more about Kirsten on The Travelers podcast. Thank you Kirsten and congrats on hitting all 50 states! ~ Nathaniel
Holocene is a media delegate of the Adventure Travel Trade Association. This post was produced for #ATWS2016 and Visit Alaska.
Meet Kirsten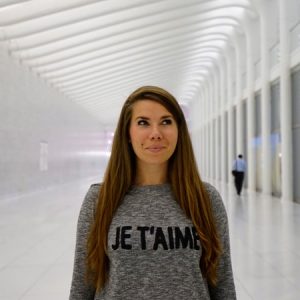 My name is Kirsten. I've worn a lot of hats in my career, but I am first and foremost always a photographer. I've never been to a country I didn't find a reason to enjoy. I've never read about a period in history I wasn't interested in. I'm a lover of culture and adventure, I'm always seeking to know more. I'm a romantic and an optimist at heart.
My earliest memories are of stories about my mother's family, who emigrated to the United States from Sweden and Finland to settle the Upper Peninsula of Michigan. They built civilization into a wild land with no possessions but the clothes on their backs. My grandfather helped build one of the first highways to Alaska. My mother always wore a bracelet carved from bleached whale bone, with black figures and pictures carved in it, carved by Eskimos.
Website • Instagram • Facebook • Snapchat
Kirsten Alana in Alaska for #ATWS2016
"It felt like I traveled through Alaska at the speed of light, changing locations every single day. Keeping up with posting photos just became impossible. So while I was very sick and stuck at home this past week, I managed to slowly put together a video of my time in the state that I REALLY want you to consider visiting sooner than later. I was well and truly BLOWN AWAY by "The Last Frontier" and I hope that comes through in this video. Alaska was my 50th state and some would not be wrong to say that I saved the best for last. (No offense to my home state of Vermont. You still have the biggest piece of my heart.)" ~ Kirsten Alana
Check out her story below: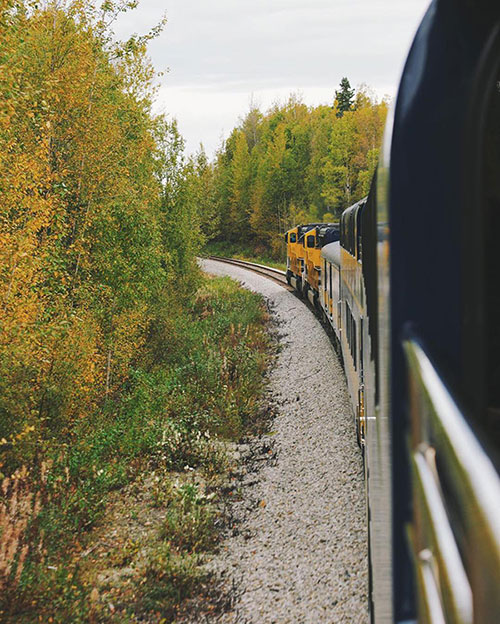 I landed in Alaska last night and when I did so, I finally achieved my goal of visiting every state in the USA!! Alaska was my 50th and some might say I saved the best for last. While I can't attest to that quite yet, I can say that it is GORGEOUS here and especially gorgeous at this time of year when the leaves are already changing, the crowds of mountain climbers have left and the people who live + work here have time to tell you stories about how the local football team gathered river rocks to help build the tallest free standing fireplace in the state in exchange for new uniforms. There's a sense of calm here and a respect for nature's rhythms. Even the train itself slows when there is a particular landmark guests on board should. not. miss. I've always wanted to ride the rails this far north & west from where I was born in Vermont because my Grandfather helped build the highway that brought intrepid explorers out here and as a child my mother wore bracelets carved from whalebone that her father had given her. People call this The Last Frontier and thanks to #ATWS2016 & the @alaskarailroad I can, finally, understand the appeal…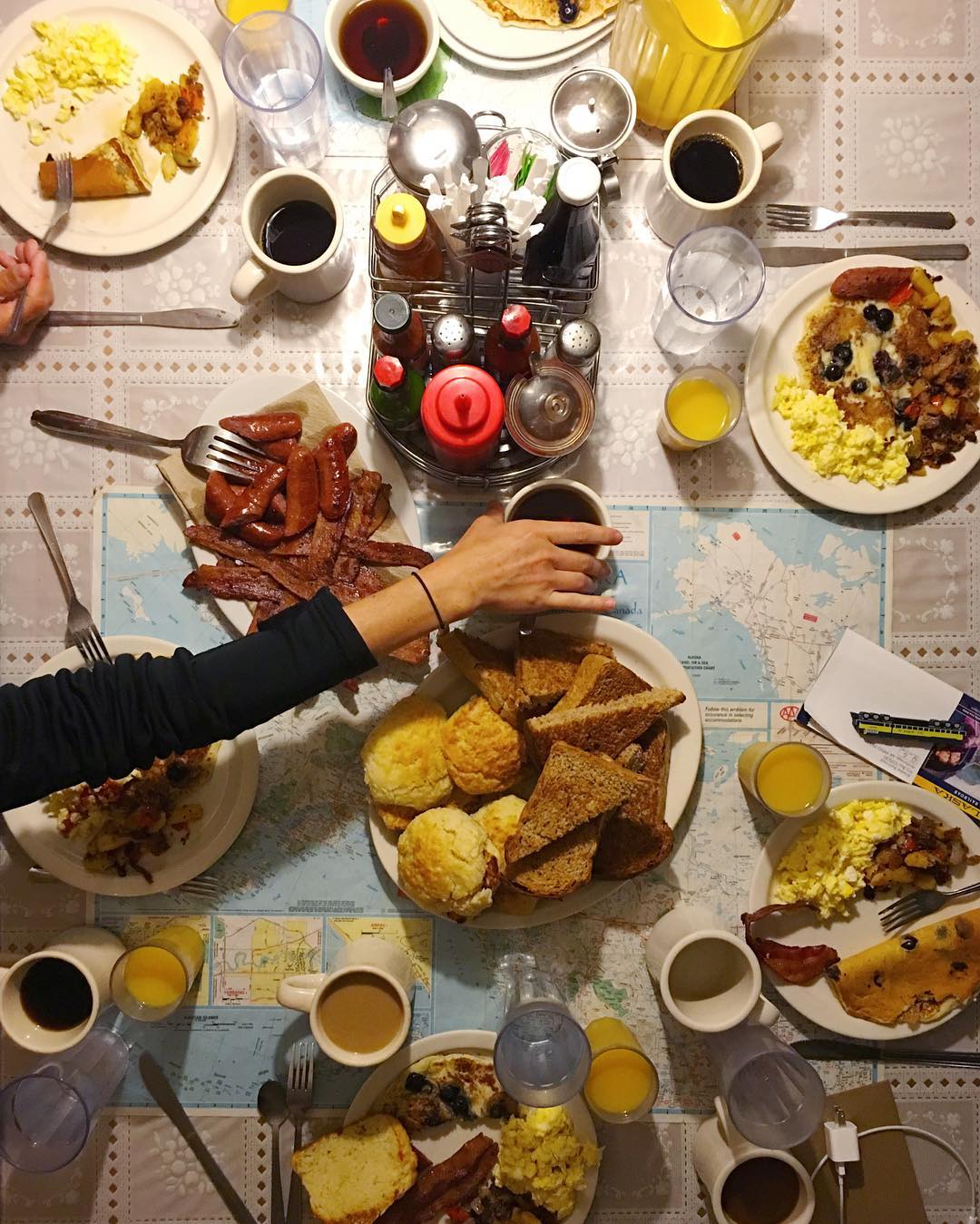 I've dined at the 'Best Restaurant in the World' and I've eaten in Michelin-starred establishments on multiple continents but I don't know that I've ever sat down at a table where almost a century of history was holding up the plates of food before me. That's just what happened at @tkaroadhouse in Talkeetna, Alaska. It's a town whose history goes back to the early 1900s when what is now known as The Roadhouse began serving food to miners, trappers and railroad workers around 1918 under the ownership of the Lee brothers. The name wouldn't become official until the 1940s, when climbing took over as the industry which primarily brought outsiders to a town that probably boasts no more than 900 full time residents. Under the ownership of Carroll and Verna Close, the legendary family style breakfasts that are still served today became the daily tradition that brings together locals, visitors and climbers alike, all at communal dining tables, trading adventure stories over stacks of sourdough pancakes with birch syrup, scrambled eggs and reindeer bacon. Current owner Trisha Costello keeps the stories of The Last Frontier, and the tradition of the communal table, alive – while allowing the walls to be covered with the native flags of climbers who come from all corners of the globe attempting to summit Denali. The food she serves is simple yet genuinely amazing but it is her stewardship of tradition and history that truly makes a journey here on the @alaskarailroad from Anchorage worthwhile. A tradition that should be part of the fabric of any well-rounded life, at least once.
While a lot of the emphasis in Talkeetna is on climbing, in @DenaliNPS you by no means have to be a climber to appreciate the natural beauty of this special part of Alaska. The name Denali refers to the mountain and park, the latter of which is America's 3rd largest in the NPS. I was so excited to be here now, on this trip, because it's the 100th birthday of the @NationalParkService this year and Denali's 100th birthday next year, plus it was just finally officially renamed by President Obama in 2015 going from Mount McKinley to Denali which means "the high one" in the Athabaskan language. To really appreciate both the mountain and the park, I recommend getting up in the air with @k2_aviation like we did, flying over the National Park and surrounding area and, if the weather cooperates, landing on one of the glaciers. We landed on Kahiltna Glacier which is Basecamp for Denali during climbing season and the longest glacier in the Alaskan Range. Most simply put: the scenery is STUNNING. The two hour round trip flight will give you different typography and varying vistas every few minutes from twisting rivers to glacier flows to jagged peaks and more. My favorite part was right around Denali just after we took off again from the glacier to head home. The tip of Denali decided to remain hidden but many other peaks were on full display. And though the white was almost blinding, one thing was crystal clear: nothing man can create will ever equal the beauty & majesty of Nature.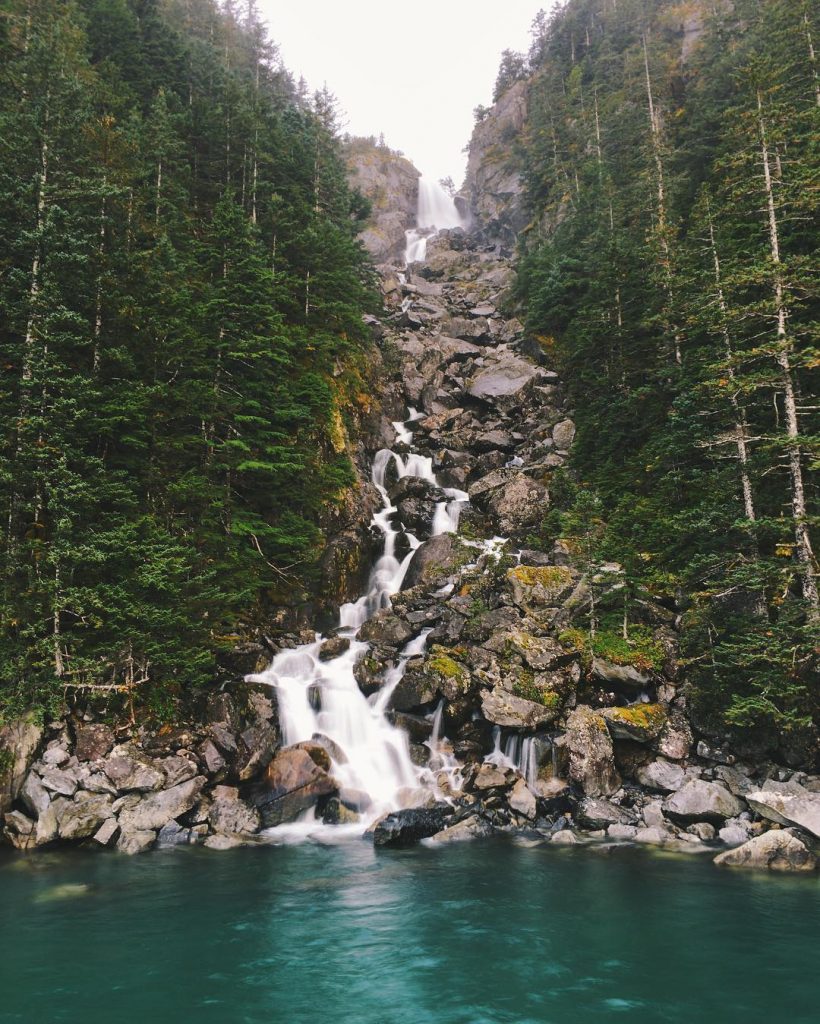 During my first few days in Alaska I was able to keep up the pace of posting easily as I slid into the stories and the history of a state my family has connections to like the writer I only wish I was but sometimes am when so deeply inspired. At some point, the pace of our experiences picked up and like a waterfall that goes from a trickle during the dry season to one that gushes off the side of a mountain with such volume you don't know how it doesn't bring the mountain down with it during rainy season…. that has become the new pace of this experience for me. There's SO MUCH to Alaska. From the people to the history to the scenery to the craft beer and fine dining to the marine life and the wildlife. Instagram Stories have been a better fit for me to share because I can share in such short tidbits and soundbites without feeling I need to do the long captions which have become my signature. I hope you're following there? All this to say I'm not sharing here because Alaska isn't amazing. Alaska IS AMAZING and there's so much to share I'm having trouble choosing!!! If you haven't been, please consider visiting.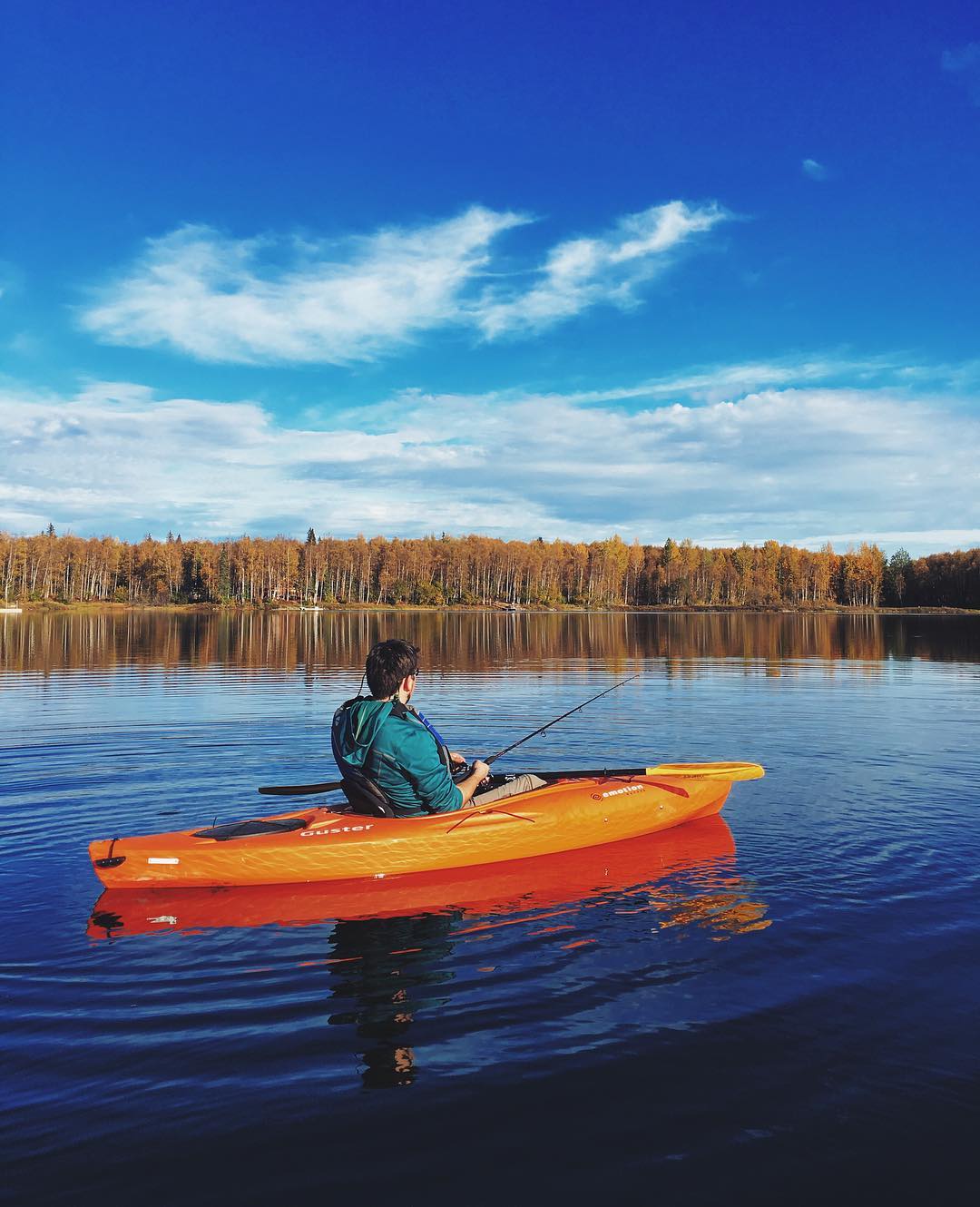 Alaska presented moments of such supreme stillness, peace and yet connectivity to other people that I had to try and write about it even though it means skipping ahead in my story of this state. Because what good is it if I tell you to visit a destination where you might not have real connections to anything. We met up early, strangers all, and traveled away from Anchorage, up to Willow with @murklcom; where we spent the day at a private home on a lake, able to choose all manner of activities or enjoy an endless buffet of food + the company of like-minded #ATWS2016 attendees & a host of Alaskans working in various industries that service locals or tourists. The goal was to relax into enjoying Alaska, and into the stories that make this state The Last Frontier. I did a little bit of it all: taking photos, telling stories, hearing stories, eating AMAZING food, making friends with sled dogs and even getting a bit of a workout out on the water. It was during my second time in the kayak just before we all packed up to [reluctantly] leave, that this moment occurred. The water was as flat as a plate of glass, the colors were heightened by the setting sun and after I pulled alongside Mauricio from @fantastico_sur we shared our mutual appreciation for the stillness of the moment and the importance of taking time to observe such moments when they occur in our hectic lives; rare that they are. He said, and I'm paraphrasing, "that we have a mission to give people their life back, to help them find their heart… through travel." I thought it was so profound because we just met today but not knowing me, he cut right to the heart of what I want to do. I don't travel to make you jealous, to make you feel envy or to be cool, I travel to remind you what's possible, to encourage you to find and grab the opportunities that will make YOU come alive. Like I did in the stillness of a lake in the middle of nowhere in Alaska today.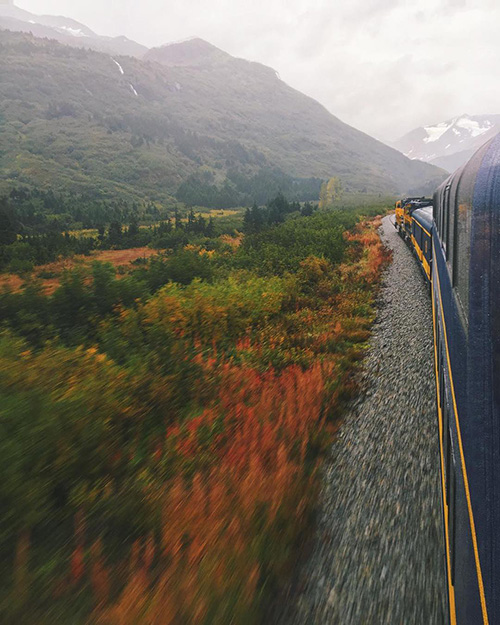 Happy first day of fall!
My Fall started when I touched down last week in Alaska and it was scenes like this one with Alaska Railroad that made me love Alaska's colorful September. If you're a planner, I recommend beginning right now, planning your own visit to the state for next year at this time. Since it's going to be the 75th birthday of the ALCAN Highway and Canada's 150th birthday, why not combine trips to the most northern and western US state with a visit to some of Canada's best provinces by road tripping to Alaska via Canada! You just might see me since this is now something I want to do as well.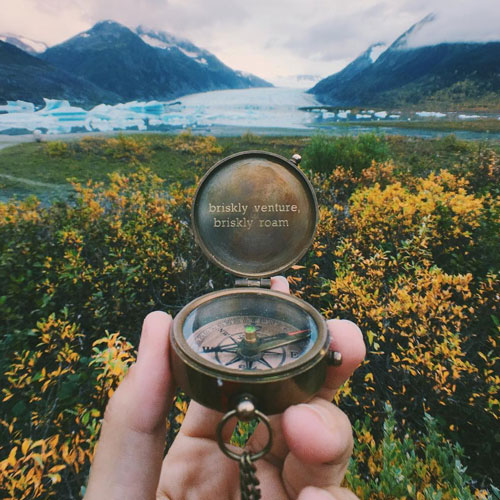 Briskly venture. Briskly roam.
Perhaps nothing better describes my time in Alaska than the quote on the inside of this compass given to me by my friend @andyaustinphoto. I carried it in my pocket all through my trip around the state, looking for the perfect moment to include it in the story of something we saw or something we did and I found that moment at Spencer Glacier during a kayak and hiking day trip with Matt, George and Ellie of @ascendingpath. We had to take the whistle stop train from Portage to get to the glacier and it was so fun getting a last ride in with @alaskarailroad, then literally flagging the train down as it made its last run for the day after our tour was over. It all went by too fast for me but I did pause in this moment, and several times on the actual glacier, to stop and just be present in the moment. It's all too easy to live life in a rush no matter where we are but I think it's particularly important when we travel to try and balance seeing much, with pausing to appreciate more. Thank you, Matt for creating a company and a tour that allows for both.

Alaska is one of those near-perfect destinations that has something for everyone, one that is still not over saturated from a tourism perspective. I also love that in September you can be knee deep in snow on top of a glacier in the morning, hike through a forest of fall foliage in the afternoon before ending the day with a gourmet meal on top of another mountain. But it was the quiet moments like this one at Spencer Glacier Lagoon with @ascendingpath and my colleagues from #ATWS2016 that I loved most. To my core I love & crave the vibrance, the bountiful options of urban travel but rural vistas feed that deep primal longing in my soul. The one that first called me to be a traveler. The one that has called so many before me to visit Alaska. I can't wait to get better and be back out on the road but until that time, I'll hold on to the memories of moments like this and look forward to the memories yet to be made…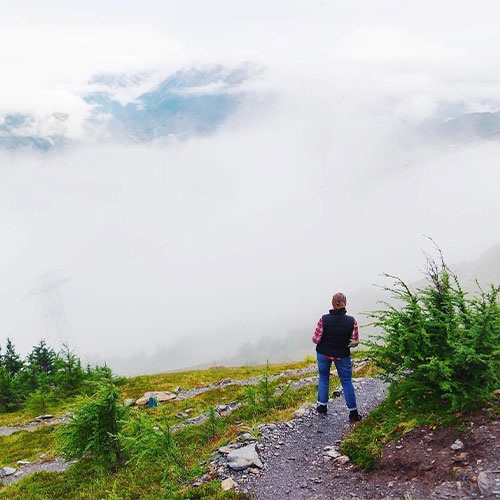 The fog in Alaska at @resortalyeska.
It's amazing how quickly nature can change. When we rode the lift up from the resort it was all clear and by the time we hiked to this spot a few minutes later, the mountains which should be in full view right in front of me, were totally obstructed. Yet there was peace standing on what felt like the edge of the world. And I was thinking about the AMAZING meal I'd had the night before, a few hundred feet away at Seven Glaciers restaurant. Sure I was bummed not to see the view I'd been looking forward to but once I got over that I noticed the beautiful way the moisture in the air created what looked like jewels hanging from all the plants, in the form of water droplets. And I noticed how in dense fog, all noise becomes muffled and things seem more still. I know for myself when I can let go of what I wanted to embrace what I have, I'm always better for it. Not that dreams and wants are bad, they're what drive us. But sometimes they can also cause us to miss the beauty of what is around us right now.
It's all about balance.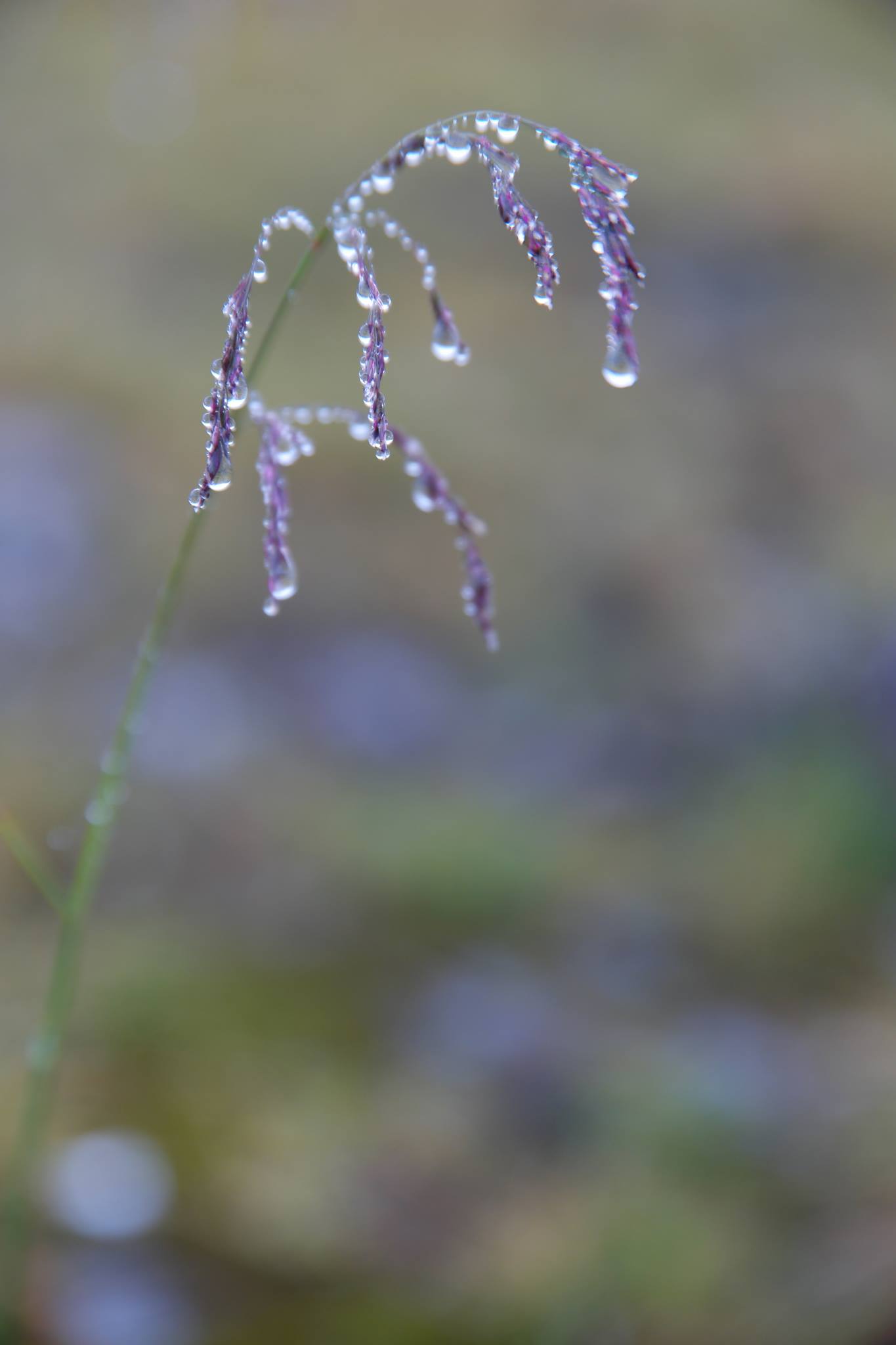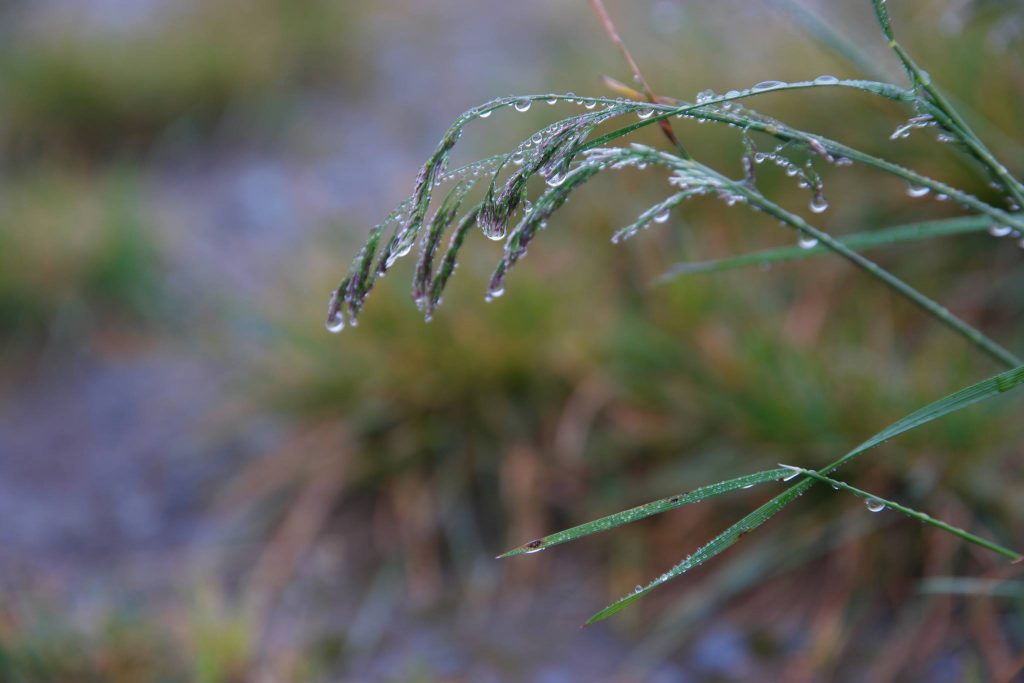 All images and words (C) 2016 Kirsten Alana
Get free access to the Creative Travelers Bundle
Get the Curiosity Quick Start Guide (PDF) and The Creative Travelers Toolkit (PDF) with 10 must have tools and 15 stories to help you get started living and sharing your stories. Plus, get access to Holocene's Marketplace with over 300+ resources for transformative travelers.