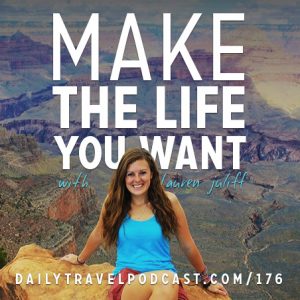 Today's guest quit her job to travel the world.
But unlike the common narrative you might have heard from many of the guests on this show, Lauren wasn't just escaping the mundanity of routine for new experience. She was suffering from frequent anxiety attacks and had just had her heart broken. For a 6-month period, Lauren wouldn't even go outside. Listen to her share her story and explain the immense value that travel has had on her and the personal exploration she's discovered simply by embracing the decision to book a one-way flight away from home and live nomadically.
Since then she's created her own life on the road as the senior writer and editor for two publications, the student travel expert for About.com, and the founder of her own website, NeverEndingFootsteps.com, which chronicles her travels, and especially her stories, challenges, and incidents from her adventures.

Explore further:

Credits
Become a Friend of the Show: Please subscribe and review!
It just takes a second and you can help the show increase its rankings on iTunes just by this simple and quick gesture. We'd be grateful for a review. Leave one here. If you do, click here to let me know so I can personally thank you!
Your Feedback
If you have an idea for a podcast you would like to see or a question about an upcoming episode, email me! I'd love to hear from you.
Thank you so much for your support!
Want the secrets of the most successful travel influencers?
Get the best interviews with the most successful travel influencers in one valuable PDF guide. Learn what makes them successful and more.
Plus, we'll send you a few big surprises 🙂